How to manage SEO migration
---
Here a guide step by step on how to manage SEO migration:
crawling of the old site
cross-check between GA and GSC with respect to all incoming URLs of the old site
backlink analysis received on the old site
once the definitive Data Entry has been received (complete with quantities and images) it is possible to generate the URLs
In Kooomo you generate the URLs via the SEO tab> SEO URL> click on List of SEO URL rules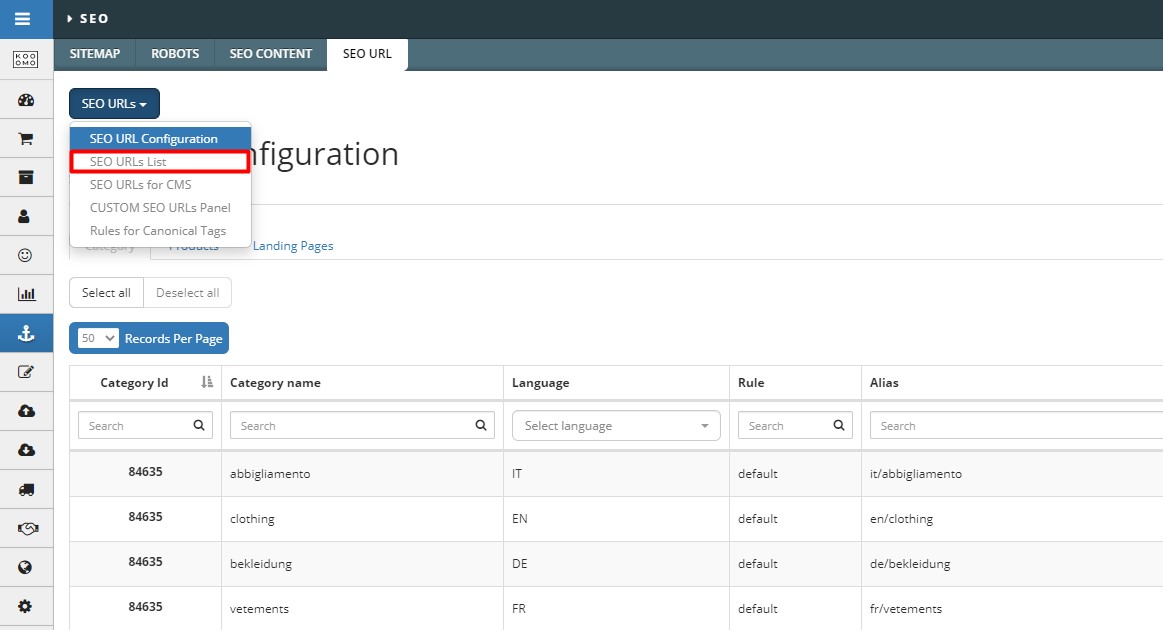 Add Rule for Categories (refers to products, for categories automatically takes the name of the category).
Only one rule will be imported, the default one (we recommend checking the label of the rule name).

Manage the rules using the elements available on the platform:

To delete an element you currently have to click with the right mouse button on inspect and delete the element code. Once the rule is named and saved, the cache must be flushed and you will automatically see the rules applied to the underlying URLs (like Alias):

Before generating the URLs through the appropriate button you must be sure that both the URLs are correct because they will automatically be generated all together
Once the URLs have been generated, they must be exported using the appropriate button at the top right (see attached file)
Within the file, the canonicals must be managed (1 for the main pages and 0 for the secondary/canonical pages within column G - the same content as column G must be inserted in column M).

Two files must be created for each language (one for the canonicals and one for the main pages). For example: IT canonical, IT not canonical, EN canonical, EN not canonical, FR canonical, FR not canonical, DE canonical, DE not canonical.
It is necessary to import these files one by one
You have to crawl the new one and check that everything is ok
At this point it is necessary to manage the redirects, below the procedure:
Fill in the example CSV template that you find in the attachment (test-red): inserting the old URLs in column L, column I the new address, column O 301, column F the reference language, column J leave custom, column N leave Normalleave the zeroes in the other columns as well and save the file in CSV format before importing it.
Attachments: